Just finished the first week back after 5 weeks of long service leave. I took my kindle, loaded up with many novels and, as has happened before, some of the novels I took to read were set in areas I travelled through. I do not plan this but I suppose if I like English stories and I am lucky enough to spend it in the UK, it is bound to happen.
Whilst there I visited the several National Trust houses and gardens. I spent a week in the Torbay area, staying in Torquay. The weather was lovely and I was delighted to find I could take either a ferry or steam train to visit Greenway, the Georgian house and garden that was the holiday home of Agatha Christie. Many personal items and written reminiscences from family and friends make the visit worthwhile, especially if you are a Christie fan. There are many editions of her books and some of the estate has appeared in the Poirot television series.
There was also a connection with the latest Wells and Wong book.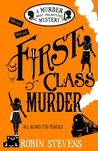 First Class Murder by Robin Stevens My rating: 4 of 5 stars
This is the third book in the Wells and Wong series. Robin Stevens has written another wonderful detective story for younger readers and paid tribute to the Queen of the crime novel, Agatha Christie. The setting for Daisy Well's and Hazel Wong's third mystery is on the Orient Express. The year is 1935 (only one year after the original ading | Tagged: book review, children's_literature,publication date of Agatha Christie's "Murder on the Orient Express") and the details of the 1930's train and the passengers seem very realistic. Hazel and Daisy have been taken on holiday by Hazel's father, who has forbidden them to do any more detecting but once again the girls are caught up in a mystery.
In this story, just like the "Murder on the Orient Express", the plot depends on one of the passengers on the train being the murderer and a detective on the train who will have to interview all the passengers to discover just who is telling the truth and who is lying.
There are some very questionable characters in the first class carriage with Hazel and Daisy as well as Hazel's father, who is trying to keep a close watch on the two girls. However, with their usual determination they are soon on the case.
In another nod to Agatha Christie, one of our young detectives, Daisy, is actually reading a copy of "Murder on the Orient Express" in this story.
This is a mystery story, with spies, priceless jewels and a murder, that will keep young readers guessing until the "clever denouement". I would recommend it to anyone who loves the challenge of unravelling a good mystery.
A list of the series on Robin Steven's website http://robin-stevens.co.uk/the-books/
About the author: Robin Stevens
Filed under: Reading | Tagged: book review, children's_literature, fiction, Robin Stevens |